Class of 1968
With Fond Memories - 2003
Our prayers go out to these families.
October 21st - Robert Oertle
It is with a heavy heart I write to tell you Robert Oertle , Debi's

(Deborah Jean Williams) husband, passed away Tuesday, October 21, 2003.

Bob and Debi were at their Lake House and drove to Chicago because Bob had tickets to see one of the Chicago Cubs games. He went into Northwestern Hospital (Chicago) the next day. During his 12-day stay, tests were run on a daily basis, and strong antibiotic cocktails were hooked up through the IV tubes. Tuesday evening, while Debi waited in the hallway, a technician took X-rays of Bob in his hospital room. Between the time the technician was done and wheeled the machine out into the hallway and Debi walked into the room, Bob had died.
We can only be thankful the Lord took him quickly. A memorial service will be held on Sunday, October 26th in Chicago at Hirsch Funeral Home, Chicago Heights, IL.

If you care to, you can e-mail Debi or you can send a card to her: Debi Oertle, c/o Sherry Mutschler, 4156 N. Bell; Chicago, IL 60618

If you could pass this word along, I would greatly appreciate it.
Linda Hein Faust

October 14th - Chris Allsbrow Steele's father, Ralph Allsbrow, passed away in Davenport.
October 1st - Ken Kuhlenbeck's mother passed away.
September 29th - Jeanie Johnston's mother passed away after a long illness.
August 12th - Debbie Haack's mother, Gilda, passed away on from cancer.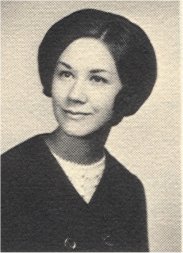 July 14 - Patricia Winder Sable passed away from cancer.

She and her husband, Timothy (who graduated from Rock Island High in 1968), were married for nearly 32 years and have three sons, Timothy 24, Gabriel 19 and Micah 15. Trish went one year to West. She and Timothy met at Palmer Jr. College in 1969. They have lived in the San Francisco Bay Area since 1976, and for the past 16 years have lived in Bay Point.


Trish was a registered nurse for 28 years. She worked at St. Francis Hospital in San Francisco, then at Mt. Diablo in Concord from 1980–1996. She worked briefly for an attorney as a Risk Control Consultant, then returned to nursing as an Advice Nurse for Kaiser in 1998. She was working there in the spring of this year when her breast cancer really took off. Trish passed away in less than 10 weeks after being officially diagnosed. Timothy can be contacted via e-mail.

June 26 - Marion Kathleen Dean Rawls (mother of Sara Rawls), 80 years old, of Sherwood, Ark., went to join her heavenly father, family, children and friends, on June 26, 2003. She was born Dec. 7, 1922. She was preceded in death by her mother and father, Maud Inez Dean and Arthur Dean; her brother, Cromwell Dean; sisters, Vera Dean, Ruby Dean Cobb; and infant sister; her daughter, Sara M. Rawls Granger in 1995.

She is survived by her daughter, Kathryn M. Langley of Cabot, Ark.; her grand- daughter, Keeley M. Norfleet of Cabot, Ark.; her grandsons, Michael Granger of Little Rock and Bruce Lawrence of Los Angeles, Kevin Granger of Louisiana; great-grandchildren, Jeffery Scott Cook, Stephanie M. Cook and Shae Norfleet all of Cabot, Ark.; brothers, Jeralin and Cullen Dean both of England, Ark., and Leonard Dean of North Little Rock.

Mrs. Rawls was on of the first women to be published in Business World Magazine in the 1950s and held executive titles in Ennis Business Forms (served the cotton industry & expanded) in DeRidder, Louisiana, until her retirement in 1989. She was a leader in the business world. She will be missed dearly by all.

Funeral will be held at Landmark Baptist Church in England, Ark., June 30, 2003 at 2 p.m. Eulogy by Pastor David Jimerson. Visitation at Wilson Funeral Home, Sunday, June 29, 2003 from 6-8 p.m. source - Arkansas Democrat-Gazette June 28, 2003